KLINGAGE KLINPORT(Metal-to-glass Seald)
Straight thread KLINPORT® Type KPS
It is an installation model by the straight thread. The size standardizes on KPS-1Q:G1-1/4, KPS-2:G2, KPS-3:G3, KPS-4:G4.
The material is S25C of carbon steel. It standardizes on SUS304, SUS316 of stainless steel. KPS-4 becomes the manufacturing only of SUS316 of stainless steel.
It is much more preparing the socket gasket to install in the KLINPORT, too, on the occasion of the hope, manufacturing material variously.

Standard KLINPORT® Specification
Type KPS-4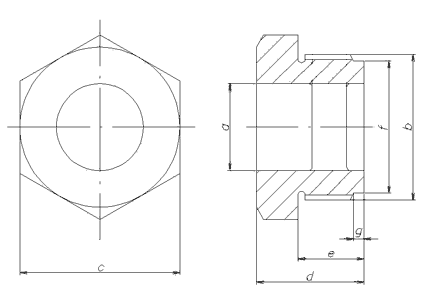 Model
a
b
c

※

d
e
f
g
KPS-1Q
25
G1-1/4
46
31
19
38
3
KPS-2
40
G2
65
43
27
55
5
KPS-3
70
G3
95
50
27
84
5
KPS-4
90
G4
115
58
29
109
5
※KPS-1Q、KPS-2=hexagon、KPS-3、KPS-4=octagon
Other models are seen