KLINGAGE KLINPORT(Metal-to-glass Seald)
Taper thread High pressure KLINPORT® Type KPT-C
It is an installation model by Taper thread High pressure. The size standardizes on KPT-C1Q:R1-1/4, KPT-C2:R2, KPT-C3:R3, KPT-C4:R4.
The material is S25C of carbon steel. It standardizes on SUS304, SUS316 of stainless steel. KPT-4 becomes the manufacturing only of SUS316 of stainless steel.
It is much more preparing the socket to install in the KLINPORT, too, on the occasion of the hope, manufacturing material variously.

Standard KLINPORT® Specification
Type KPT-C3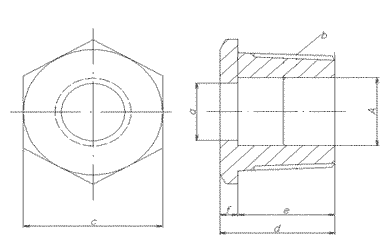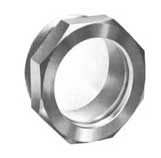 Model
A
a
b
c

※

d
e
f
service pressure
kgf/cm2
(MPa)
service temperature
℃
hydrostatic test
kgf/cm2
(MPa)
KPT-C1Q
25
21
R1-1/4
46
38
32
6
176
(17.2)
250
274
(26.9)
KPT-C2
40
36
R2
65
45
35
10
93
(9.12)
200
140
(13.7)
KPT-C3
70
66
R3
95
58
45
13
30
(2.94)
120
45
(4.41)
KPT-C4
90
86
R4
115
65
50
15
30
(2.94)
90
45
(4.41)
※
KPT-C1Q、KPT-C2=hexagon、KPT-C3、KPT-C4=octagon
Other models are seen