Direct Reading Liquid Level Gages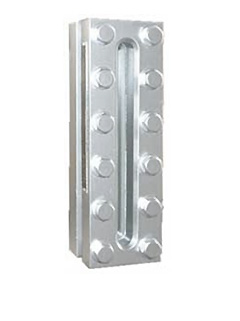 RWB1-25 #5×1
KLINGAGE Weld On Type Level Gages
It is a liquid level gage with the type to weld directly at the tank and the container and so on.
Nihon Klingage Co., Ltd. However, provide a high safety welding -type liquid surface meter by the glass liquid level gage seal technology which was cultivated for many years.
We prepare Reflex Weld On Type Level Gages(RWB1-25、RWB1-32) and Transparent Weld On Type Level Gages(TWB1-25、TWB1-32) which used KLINGAGE Glass for Liquid Level Gauge(
for Water Level Gages JIS B8211
) as the standard type with the various material ( carbon steel, stainless steel ).
It is manufacturing Welding type sight glass ( the CWB1 series ) which used circle type glass, too.
Besides, if being in this desire Visual Length, Visual Width, the diameter which is visible, gage seat having to do with a figure ( the R processing and so on ), it designs and it manufactures.
KLINGAGE Standard type Weld On Type Level Gages(RWB1-25,RWB1-32,TWB1-25,TWB1-32)Rating

Ratings( the pressure and temperature standard ) of Weld On Type Liquid Level Gages RWB1-25、RWB1-32、TWB1-25、TWB1-32 is shown in the figure below.
As for the following figure, the red line is carbon steel (S25C、A105).The blue line is austenitic stainless steels(SUS304、SUS316、SUS304L、SUS316L).
The standard of the following figure is glass size #9. As for each glass size, it becomes the Rating which was revised in the left table below.
Also, depending on the temperature, it is in the seat of the bolt material to use and the gasket material it isn't possible use and so on.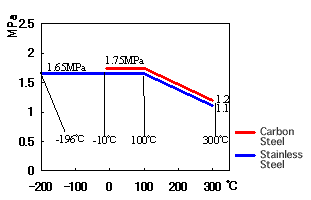 | # | Pressure(MPa)× * times |
| --- | --- |
| 10 | × 0.70 |
| 9 | × 1.00 |
| 8 | × 1.05 |
| S7 | × 1.10 |
| 7 | × 1.10 |
| 6 | × 1.20 |
| 5 | × 1.30 |
| S4 | × 1.30 |
| 4 | × 1.30 |
| 3 | × 1.30 |
| 2 | × 1.30 |
| 1 | × 1.30 |
Line-up KLINGAGE Weld On Type Level Gages