KLINGAGE MG (Magnet Float) Type Level Gage
KLINGAGE MSReed Switch
MS Reed switch is a latching switch that is specially designed for MG series Level Gage. MS Reed Switch is easy to install on the chamber for point level control or alarm with MG series. the magnetic mounted in the float causes the secondary magnet rotate in the switch as it passes up and down. Standard type MS-10 and explosion proof(d2G4)type EXmS-90 are available.
Standard Specification
| Model | MS-10 | EXMS-90 |
| --- | --- | --- |
| MAX Seitch Load DC-W | 10 | 10 |
| MAX Current DC-A | 0.5 | 0.5 |
| MAX Voltage V | DC100, AC125 | DC100, AC125 |
| MAX Insulating DC-W | 250 | 250 |
| Operational Temp. Rage | -10~+80 | -10~+80 |
| Swichi Style | Latching | Latching |
| Wirung Tube Diameter | G1/2 | G1/2 |
| Structure | Water Proof JIS C0920 | explosion proof d2G4 |

MS-10

EXMS-90

place to have installed lead switch EXMS90 in
low-boiling point MGB for LPG type(Double tube type)
(high-pressure gas authorization article)
Pinciple pf Operation

Since MS Reed Switch is a latching switch, be set switch on and off with the up and down movement of float. When float moves upward and reaches the point of MS Reed switch, switch rotates. On the other hand, when the float moves downward and reaches the point, switch rotates different direction. Of course, on and off is easy to set by changing direction of switch body on the chamber.

These switch operation is various with the request of the process.
MS -type lead switch for the KLINGAGE MG (Magnet Float) Type Level Gage is designed to be able to implement a switch operation change request in the place very easily.

Operation of the switch becomes opposite when removing a screw ( two ) like the right figure and turning a main unit 180 °.
When the EXMS-90 forming die, too, changes installation likewise, the switch operation becomes opposite.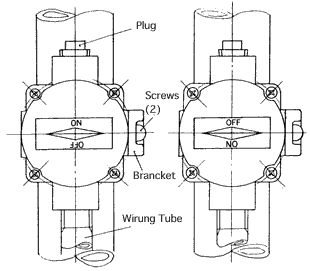 MS-10
Upward: on
Downward: off
MS-10
Upward: off
Downward: on
Conection

Switch operates without any power sourc.
3mm round wiring terminal is standard.