Level Gage
1.1Definition
The Level Gage refers to the instrument for measuring the boundary surface of the flowable matter between. The boundary surface between fluid is referred to as "Level".
1.2Classification
Glass Type (Direct Reading Type)
Magnetic Type (Indirection Type)
Displacer Type
Differential pressure Type
Electrostatic capacity Type
Ultrasonic Type
Float Type
Others NIHON KLINGAGE manufactures Glass Type and Magnet Float Type.
Type that is manufactured and sold by our company is 1 and 2.
Principle of Glass Gage Type
The fluid level in the vessel is equal to the fluid level of the tube connected with communicating pipe. Through the transparent plastic or glass, the fluid level in the tube is monitored directly. I call glass gage equations (direct type) level gage the liquid level gage of this method.
Point
Environmental conditions in the container coming into the level gage as it is.
Are sometimes treated as a pipe than the instrument.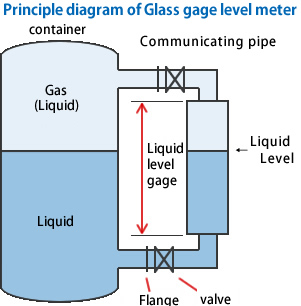 Type of Glass Gages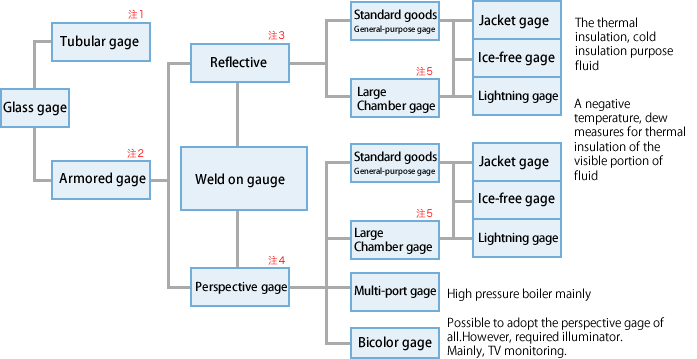 ※1)Transparent resin or glass tube is used to see the liquid.
※2)Monitor the level through plate glass installed into metal frame.
※3)Reflex type is ideal for clean total level indication applications for refining, petrochemical and general use applications. The reflex prisms are molded and polished to provide a crisp black silver bi-color indication of the fluid level. As light passed into the reflex glass, if there is fluid present the light continues through the glass an impacts the back of the level gage, provided a black color for fluid level regardless of the actual color properties of the process fluid. If fluid is not present, the light is reflected back towards the user providing a shiny silver.
※4)Transparent type is constructed with two pieces of flat polished glass assembled on opposite sides of the level gage chamber. It is easy to view the fluid properties, such as color. The use of an illuminator is recommended on a transparent gage.
※5)Suitable for low boiling point fluid and high viscosity fluid application.
Type of Magnetic Level Gages
Magnetic level gauges include a "floatable" device that can float both in high and low density fluids. The float moves with level at the same time. The indicator consists of magnetic flappers and the magnetic force of the float inside the chamber rotates flappers on indicator.
Point
Environmental conditions in the container coming into the level gage as it is. There is always the magnet position of the liquid surface draft plane.
High safety without worry of leakage compared to the glass Type.
Can be installed output of alarm contact analog transmitter.
※1)Diagram of Magnetic Level Gage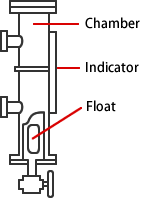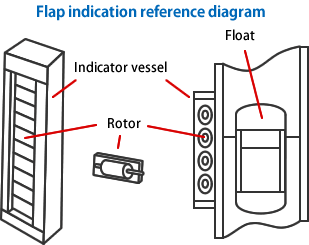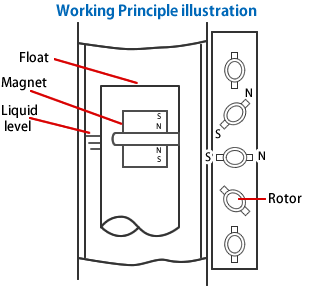 Selection guidelines of level gage(measurement)
※Armored form to use (only perspective type) glass surface protected by a mica plate, or glass coating by employing the resin tube tubular type.
○Suitable
△Possibly applicable but there are better choices
×Not suitable.
□Applicable under limited condition
Conditions
Glassgage
MagnetFloat
Tubular Type
Armored type
General-purpose Type
Assorts Type
Multiport Type
Reflection Type
Transparent Type
Reflection Type
Transparent Type
Fluid characteristics
Glass corrosion to fluids, such as (alkaline)
※□
×
※□
※□
※□
△
○
Fluid corrosion glass (alkaline, etc.)
※□
×
※□
×
※□
△
○
Polluted glass objects
×
×
○
×
△
△
○
Condense large amounts of paper in the gage glass
×
×
△
○
△
×
△
Clear, colorless
○
○
△
△
△
△
○
Colored opaque
○
○
○
△
△
△
○
Objects, high viscosity
×
×
○
×
○
△
△
Easy-to-boiling fluid
×
△
△
○
△
△
△
Large density fluctuations of fluid
○
○
○
○
○
○
×
Adhesion of large fluid
○
○
○
○
○
○
×
A somewhat fluid
○
○
○
○
○
○
×
Interface measurement
△
×
○
×
△
×
※□