Glass
KLINGAGE KLINPORT(Metal-to-glass Seald)

High pressure use KLINPORT® Type KP308

So far, many processes which are processed at the high pressure occur at the equipment of the petrochemistry and synthesis chemical industry and so on. Therefore, it is necessary to watch in the case of the equipment of the safe driving and on the inside of it.
In such a case, there were concerns such as the damaging accident of glass in the Liquid Level Gages or the peeping window by conventional glass simple substance.
It is development た in the KLINPORT KP-308 type which had pressure-resistant marvelous sex, common use pressure 500kgf/c㎡. It is manufacturing the sight glass of the Liquid Level Gages which it is possible to use safely under such a condition to be severe.

KLINPORT Type KP-308 size


Moldel
H mm
t mm
service pressure
MPa(kgf/cm2 )
hydrostatic test
MPa(kgf/cm2 )
KP-308-2
20
15
29.4 (300)
58.8 (600)
KP-308-3
24
19
49.0 (500)
78.5 (800)
High pressure liquid level gage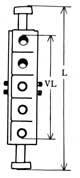 Model
Rating
Standard Size
Model
5P
7P
9P
L
LV
L
LV
L
LV
T300K
29.4MPa
(300kgf/cm2)
580
340
740
500
900
660
KLINPORT
KP-308-2
T500K
49.0MPa
(500kgf/cm2)
680
420
880
620
1080
820
KLINPORT
KP-308-3

Type KP-300 High pressure liquid level gage
used by KLINPORT KP-308-2
Other models are seen