Glass Products
Glass products for Direct Reading Liquid Level Gauges
Reflex Glass

The reflex prisms are molded and polished to provide a crisp black silver bi-color indication of the fluid level. As light passed into the reflex glass, if there is fluid present the light continues through the glass an impacts the back of the level gage, provided a black color for fluid level regardless of the actual color properties of the process fluid. If fluid is not present, the light is reflected back towards the user providing a shiny silver.

Bi-color Reflex Glass

Reflex prism is colored in red (Other colors are available.) to get the clear vision of fluid level. If there is no fluid present, red color is provided.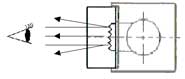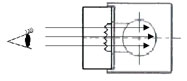 Transparent Glass

Flat tempered glass is mounted on each side of the liquid chamber and held between gage covers. Liquid level, boundary level and liquid color are observed by the differece of transmission of light emitted from the illuminator behind.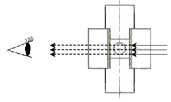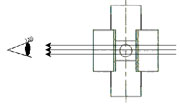 Glass size
Standard Glass
Size(mm)
for Armered Gages
Size
NO
L
W
T
V.L
#1
115
34
17
90
#2
140
34
17
115
#3
165
34
17
140
#4
190
34
17
165
#S4
200
34
17
175
#5
220
34
17
195
#6
250
34
17
225
#7
280
34
17
255
#S7
300
34
17
275
#8
320
34
17
295
#9
340
34
17
315
#10
400
34
17
375