KLINPORT-Sight Glass
What is KLINPORT?
KLINPORT invented by NIHON KLINGAGE is a sight glass that glass and metal got united and became to have excellent airtightness by fusion bonding. Because the heart expansion rate of glass is different from metal, the glass become extremely strong agaist phsical damage.
Features
It is best as the sight glass to use in the environment which the high-pressure condition is severe on in the marvelous strength. The equipment main unit, and the straight or it is possible to connect with the taper screw. Therefore, the installation and the removal are simple and the maintenance is easy. Glass and the Metallic Ring fusion directly and it secures safe seal-ability. It is safe because the fragment doesn't scatter even if glass damages.
Type AX-2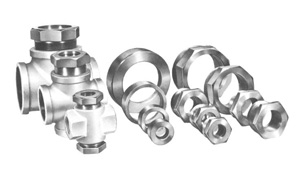 No Leakage

No No sealing material between glass and metal

Easy Maintenance

Easy installation and replacement

Safety

* Strong against phsical impact and vabration.
* Glass do not become fragment and scatter even if got phiscal damag.
Types of KLINPORT
Features
Model
Adaptation
Call by name
Material
Standard type
Type KPT
Atmospheric pressure~2MPa
-1Q
-2


※1

Carbon steel and Stainless steel
Type KPS
Vacuum~2MPa
Type KPF
Vacuum~2MPa
-1Q
-2
-3
-4


※1

Type AX

※2

Atmospheric pressure~2MPa
Type KPL
Vacuum~2MPa
High pressure type
Type KPT-C
~17.3MPa
-1Q
-2
-3
-4


※1

Type KPS-C
~6.9MPa
Ultra High pressure type
Type KP-308
~49MPa
φ45×xH
Stainless steel
Type KP-32
15.7MPa/345.7℃
φ45×17H
Fe-Ni-Co
High pressure and High tempreature type
Type KP-34
21.6MPa/.372.1℃
φ52×22H
※1

:Nominal diameter -1Q(1-1/4") / -2(2") / -3(3") / -4(4")

※2

:2 types are available. -1Q(1-1/4") / -2(2")
Please contact us if Weld-on type is needed.